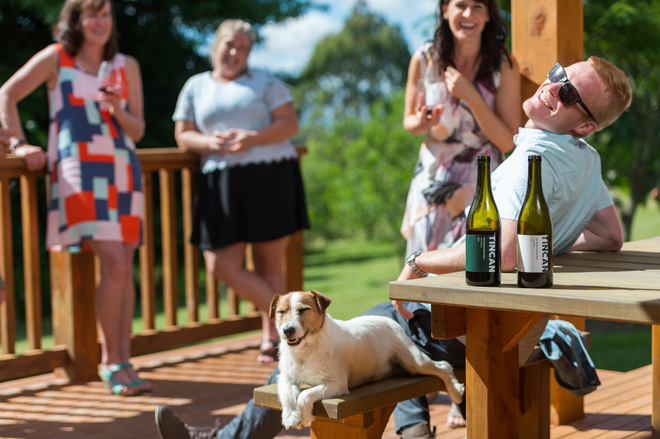 The TINCAN promise:
No

additives

No

sulphur

No

animal products

No

filtration—the cloudiness in the bottle is intentional. It made up of a small amount of natural grape and yeast residue and is used as a natural antioxidant.
All of our winemaking processes are by hand, including bottling, labelling and waxing the bottles. We look to make textural wines and try not to rush them out the door. So with a year in barrel we need 10 months in bottle to be ready for release.
TINCAN 'Wilful White' 2018
2018 vintage is a fun, fresh field blend of Pinot Gris, Riesling, Chardonnay, Sauvignon blanc and Gewurtztraminer. 12.5% alc. Zero additives and preservatives and a very small amount of sediment due to no filtration.
Tasting Notes
Colour: Clear fresh Apple juice with slight touch of sediment.
Nose: Bright and fresh with passionfruit, citrus, floral and herbal characters and a flint finish.
Taste: A dry, crisp, medium-bodied wine. Flavours include citrus, passionfruit, thyme, cinnamon, dried apricots and malt, with a mineral finish.
Palate: Crisp, lively acidity, balanced with softening phenolics showing a small amount of skin fermentation.
TINCAN 'Practically Pinot' 2017
Enjoy this tasty Pinot noir made up of 86% Pinot noir co-fermented with 14% Chardonnay and showing some interesting characters from the carbonic fermentation and whole-bunch stems. 11.5% alc.
Tasting Notes
Colour: Very dark, deep, ruby-red with purple hues.
Nose: Intense, with aromas of Juniper and dark fruit, plums boysenberry and black currents. This is followed with earthy violets, jasmine and cumin
Taste: Juicy, full-bodied with flavours of honey, orange peels fresh grapefruit. A dry firewood with herbal thyme and sage,  Syrah-style spice.
Palate: A balanced wine with lengthy tannin showing the small amount of whole-bunch stems and fresh acidity showing the co-fermented Chardonnay, yet still finishing rich and smooth.
TINCAN 'Persuasive Pét Nat' 2019
Bubbles! Only 1300 bottles of our Pét-Nat (natural sparkling wine) were made in 2019. Predominately Sauvignon blanc selected from three different cuvées. Barrel fermented, skin fermented and carbonic fermented. A small amount of Riesling juice was added for the secondary in-bottle ferment. 11.5% alc.
Tasting Notes
Colour: Mandarin juice with a fine effervescence.
Nose: Super fresh and fragrant aromas of honey, florals and stonefruits, alongside a subtle smell of bread dough.
Taste: Lifted flavours of white and green stonefruits, mandarin, grapefruit, lemongrass and rosemary.
Palate: Gentle skin fermented phenolic bitterness is balanced by light effervescence and fresh acidity. Vibrant and persistent with a dry, citrus finish.
TINCAN 'Sassy Sauvignon' 2018
A very different spin on New Zealand Sauvignon blanc. Approximately; 30% is neutral barrel-fermented with full juice solids, 30% is fermented 28 days on skins, 30% is carbonic fermented and pressed to amphora, and 8% is barrel-fermented Chardonnay with 4% Gewurztraminer. 11% alc.
Tasting Notes
Colour: Slightly opaque, rich orange-gold.
Nose: Intense, with aromas of gooseberries, quince, green beans and citrus fruits.
Taste: Dry and medium-bodied, the palate is a fusion of gooseberries, citrus fruit, with notes of quince, herbs and toasted hazelnuts.
Palate: No oak. Instead, you'll find light phenolic textures with fresh acidity. An animated wine with a lasting finish.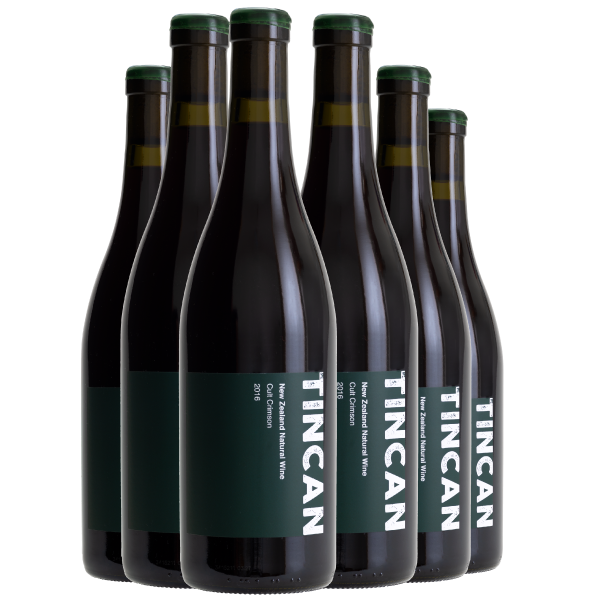 TINCAN 'Cult Crimson' 2018
A fun, fresh take on Pinot noir. Fruit was sourced from the old organically certified Mahana vineyard here in Nelson. 50% Destemmed on top of the remaining 50% kept intact for carbonic maceration. The ferment was foot stomped after a week and kept on stems. Pressed to amphora for 10 months. 12.5% alc. Zero additives and preservatives and a very small amount of sediment due to no filtration.
Tasting Notes
Colour: Light in colour due to the carbonic maceration with slight touch of sediment.
--Tasting notes to come--
Nose:
Taste:
Palate: