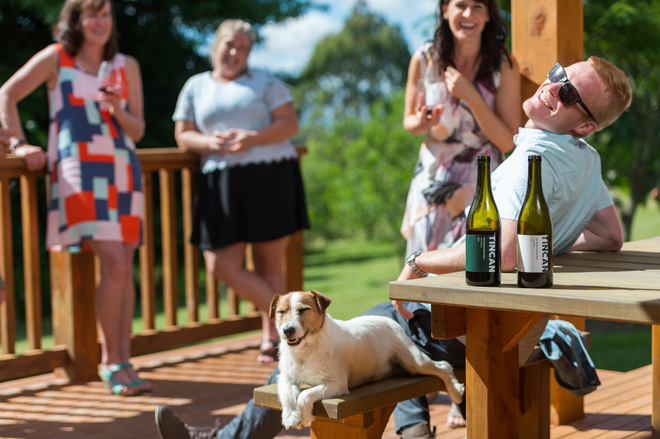 The TINCAN promise:
No

additives

No

sulphur

No

animal products

No

filtration—the cloudiness in the bottle is intentional. It made up of a small amount of natural grape and yeast residue and is used as a natural antioxidant.
All of our winemaking processes are by hand, including bottling, labelling and waxing the bottles.
TINCAN 'Wilful White'
A fun, fresh field blend of Pinot Gris, Riesling, Chardonnay, Sauvignon blanc and Gewurtztraminer. 12.5% alc. Zero additives and preservatives and a very small amount of sediment due to no filtration.
Tasting Notes
Colour: Clear fresh Apple juice with slight touch of sediment.
Nose: Bright and fresh with passionfruit, citrus, floral and herbal characters and a flint finish.
Taste: A dry, crisp, medium-bodied wine. Flavours include citrus, passionfruit, thyme, cinnamon, dried apricots and malt, with a mineral finish.
Palate: Crisp, lively acidity, balanced with softening phenolics showing a small amount of skin fermentation.
Palate: Crisp, lively acidity, balanced with softening phenolics showing the skin fermentation.
TINCAN 'Practically Pinot'
Enjoy this tasty Pinot noir made up of 86% Pinot noir co-fermented with 14% Chardonnay and showing some interesting characters from the carbonic fermentation and whole-bunch stems. 11.5% alc.
Tasting Notes
Colour: Very dark, deep, ruby-red with purple hues.
Nose: Intense, with aromas of Juniper and dark fruit, plums boysenberry and black currents. This is followed with earthy violets, jasmine and cumin
Taste: Juicy, full-bodied with flavours of honey, orange peels fresh grapefruit. A dry firewood with herbal thyme and sage,  Syrah-style spice.
Palate: A balanced wine with lengthy tannin showing the small amount of whole-bunch stems and fresh acidity showing the co-fermented Chardonnay, yet still finishing rich and smooth.
TINCAN 'Persuasive Pét Nat'
Bubbles! Only 900 bottles of our Pét-Nat (natural sparkling wine) were made in 2017. Predominately Sauvignon blanc selected from three different cuvées. Barrel fermented, skin fermented and carbonic fermented. A small amount of Riesling juice was added for the secondary in-bottle ferment. 11.5% alc.
Tasting Notes
Colour: Mandarin juice with a fine effervescence.
Nose: Super fresh and fragrant aromas of honey, florals and stonefruits, alongside a subtle smell of bread dough.
Taste: Lifted flavours of white and green stonefruits, mandarin, grapefruit, lemongrass and rosemary.
Palate: Gentle skin fermented phenolic bitterness is balanced by light effervescence and fresh acidity. Vibrant and persistent with a dry, citrus finish.
TINCAN 'Sassy Sauvignon'
A very different spin on New Zealand Sauvignon blanc. Approximately; 30% is neutral barrel-fermented with full juice solids, 30% is fermented 28 days on skins, 30% is carbonic fermented and pressed to amphora, and 8% is barrel-fermented Chardonnay with 4% Gewurztraminer. 11% alc.
Tasting Notes
Colour: Slightly opaque, rich orange-gold.
Nose: Intense, with aromas of gooseberries, quince, green beans and citrus fruits.
Taste: Dry and medium-bodied, the palate is a fusion of gooseberries, citrus fruit, with notes of quince, herbs and toasted hazelnuts.
Palate: No oak. Instead, you'll find light phenolic textures with fresh acidity. An animated wine with a lasting finish.